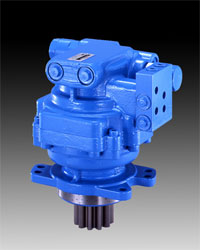 PCR-1B
Compact size
Improved arrangement of components and decreased height enable installation under the driver's seat.
No need for gear oil replacement
The lubricating system uses hydraulic operation oil for the reduction gear, eliminating the need for gear oil replacement.
Built-in parking brake
Parking brake can be built into the hydraulic motor, enabling safer parking on an incline
Shockless function
Shockless relief is standard equipment to enable smooth Swing.