Message from the representatives
Leading in manufacturing innovations through technologies at the highest global standards, with its core business in robotics
The Nachi-Fujikoshi Group's slogan, "Challenging growth in business to fulfill aspirations as a manufacturing company," embodies our long-term vision. We contribute to the expansion in the world of manufacturing by capitalizing on our abilities. As a comprehensive machinery manufacturer, we have the multifaceted operations and technologies to provide various solutions to customers in fields such as automotive, industrial machinery, energy, and infrastructure.
We formulate our medium-term slogan, "Leading in manufacturing innovations through technologies at the highest global standards, with its core business in robotics", in expectation of long-term shifts in market demand. We reinforce constitution of sales, service, production, procurement and development.
In the future, we aim to achieve both strong corporate growth and to provide value to our stakeholders including not only our shareholders and customers, but also our business partners, employees, and the local societies where we conduct our business.
President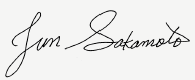 Chairman