NV-Pro
High-speed, high-capability systems

A visual device has been imbedded and unified with an AX control device, realizing high-speed processing.
(Measuring Time (compared to conventional devices of our company): 2D: 60%, 3D: 83% increase in speed)
Equipped with a part search tool which is not affected by the direction, size or exterior irregularities of parts.

Equipped with stereo recognition function

Uses our independently developed stereo vision algorithm to measure the 3D position of work.
Even for bulk work within the pallet, the robot performs position offset and removes work.

Cross laser 3D sensor

Cross laser irradiation makes it possible to recognize the tilt, height and holes of work in 3D position.
Optimal for removing bulk sheets and boxes.
Outstanding environmental resistance
Environmental resistance has been increased 4 times through the automatic exposure function. Able to stably ascertain work even during changes in brightness.
Easy operation with robot teach pendant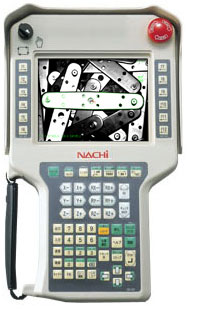 Uses the same operation interface as the AX control device. The robot teach pendant can be used to perform simple operation for all visual devices, including condition settings and programming.
A separate display is not required. Camera images can be displayed in color on the teach pendant, realizing compactness and easy operation.
Catalog Download

· Vision system NV-Pro (2pages/707KB)