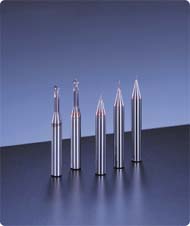 High speed and long tool life
High speed and long tool life is realized, because of using tough tool material & coating for small size end mill.
High stiffness
Precise milling is realized without vibration, because of adoption thick web, unique geometry of flute,and new chisel geometry.
Adoption of 6mm shank
Tolerance of Diameter 6 shank is within 5m. Suitable for precise milling due to chucking accuracy is increase.
Series
X's mill GEO Micro Ball LIST9332
X's mill GEO Micro Ball long neck LIST9334