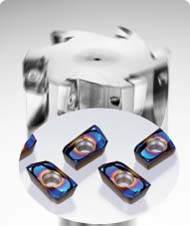 Dry milling of Aluminum
DLC (diamond-like carbon) is an amorphous material with high hardness and low friction rate, and has similar character of Diamond.
Application for milling in Aluminum Ultra high speed cutting in DRY!
Excellent surface roughness
Dry milling is possible by high rake design, and DLC coating on a lapping rake face.
Surface roughness of wet milling is realized by dry milling.
Applicable end mill
X's Mill Wavy 2000 and 3000 models
X's Mill Wavy Multi-function types 2000 and 3000