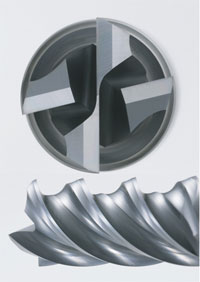 Endmill with unequal tooth spacing and variable leads
Periodicity of cutting stress is effectively suppressed by continuously changing outer teeth spacing, allowing for chattering control.
For titanium alloy and SUS and for steels
There are two types, for steels and for titanium alloy and SUS that support almost any work materials.
GSX II coating
With the multi-layer of heat resistance coating and hard coating, GSX MILL VL supports cutting of hardened materials. With high wear resistance and anti-adhesion properties, stable chip removal is realized for a wide range of work materials.