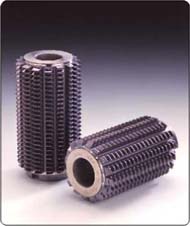 Dual Cut Hob
Both dry hobbing, which solve environmental problem and conventional wet hobbing are available.
For Dry and Wet Hobbing
In dry hobbing, cutting speed can be changed faster than that in conventional wet cutting, and tool life is longer as well.
Long Tool Life in Wet Hobbing
Even if wet hobbing, higher cutting speed and longer tool life are achieved.