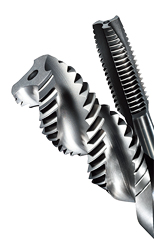 New style of innovative taps crystallized of the best NACHI technology
Using the NACHI owned material development technology, heat treatment, grinding technology.
According the mechanical processing principle and wear analysis of the gear cutting tool and broach processing technology, using the best shape design, small fluctuations in life to achieve stable processing.
Played a superior and efficient performance in the field of low-medium speed, 2x3x life than non-coated taps.
Its long processing life also surpasses the coating taps.