Energy-Saving Variable Pump Unit
NSPi series Inverter drive hydraulic unit
Easy Operation and Reliable Performance
Immediate start just by turning on the power
The inverter drive NSPi unit can be started easily just by turning on the power.
Just push a single button to operate at maximum energy savings after pressure is adjusted.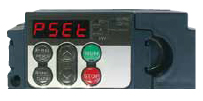 Production lines keep running
Production lines continue running even if there is trouble with the inverter because it is based on our reliable NSP unit and keeps running as a regular NSP unit.
Catalog Download

·NSPi Series Inverter-driven Hydraulic Unit (4pages / 883KB)