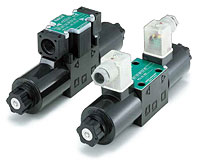 We have added the SED series using the DIN connector wiring system to the low power type.
Realizes maximum working pressure, maximum flow, and allowed back pressure for the 5W class

| | |
| --- | --- |
| Maximum pressure | 16MPa |
| Maximum flow | 40L/min |
| Permissible back pressure | 16MPa |

CE Approval
We have prepared a terminal box/DIN connector wiring product and a connector (M12-4 pin connector) wiring product, so selection using the formal auxiliary symbol is possible.
Surge-less Circuit is standard equipment
The connector wiring product can be directly connected to a wire-saving system such as Device Net, etc.