TO OUR SHAREHOLDERS
We would like to express our sincere gratitude to our shareholders for your continued support and patronage.
We report the results for the NACHI-FUJIKOSHI Group for the period from December 1, 2018 to November 30, 2019.
Business Environment
The environment surrounding the NACHI-FUJIKOSHI Group during the present term has been generally difficult because the global economy slowed down fur ther as the consequence of the U.S.-China trade dispute, Brexit, and other factors.
Business Progress and Results
Given these circumstances, the NACHI-FUJIKOSHI Group has been making full use of its strength as a comprehensive machinery manufacturer with robotics business at its core and encompassing cutting tools, machine tools, bearings, hydraulic equipment, and special steel businesses to expand orders and sales by finding new users in Japan and overseas and to develop and introduce to the market game-changing new products. We have also promoted the strengthening and expansion of our development, sales and production systems aiming for the immediate improvement of profit structures and the mid- and long-term expansion of business operations.
However, domestically, automobiles and industrial machinery showed weakness while overseas markets, China in particular, also slowed down. As the result, consolidated net sales in the current term remained at 249.0 billion yen, down 1.2% year-on-year. This includes domestic sales of 135.0 billion yen (up 3.1% YoY) and overseas sales of 114.0 billion yen (down 5.9% YoY). In terms of profitability, although we undertook productivity improvement and cost reduction, in addition to a strong yen, persistently high raw material, energy, and distribution costs as well as rising personnel expenses and other increasing costs put pressure on profits. This period's operating income and ordinary income and net income attributable to the parent company shareholders were 13.3 billion yen (down 12.8% YoY), 12.2 billion yen (down 11.9% YoY), and 8.2 billion yen (down 7.8% YoY), respectively.
Dividends
With regard to the fiscal year-end dividend, taking into account the profit and the future business development, it has been decided that the dividend would remain the same as the previous period and 100 yen per share would be paid.
Future Initiatives
The outlook for the business environment is unclear, beginning with the U.S.-China trade dispute. It is difficult to determine at this point where demand is headed in automobiles, industrial machinery, construction machinery, and the retail markets. The management environment is also changing around us with the acceleration of the shift towards electric vehicles (EVs) and automated driving well as the progress in manufacturing with factory automation and the internet-of-things (IoT).
Seizing this structural change as a major opportunity, the NACHI-FUJIKOSHI Group will enhance the nature of all aspects of sales and service, manufacturing and procurement, and research and development under the new medium-term slogan of "Innovate in manufacturing worldwide with our advanced FA systems and mechatronics." We will also leverage our unique strengths in diverse businesses, technology, and manufacturing knowhow in robotics and otherwise to create new products and business opportunities, along with striving to further improve our performance by carrying out structural reforms including thoroughgoing cost reform and strengthening and developing human resources.
We would like to express our sincerest appreciation to all of our shareholders and other stakeholders for their continued support.
February 2020
President and Representative Director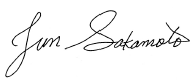 Chairman and Representative Director